---
---
To view another month's New Products News, click on any month/year listed
February is International Toy Fair month in Nürnberg. Special thanks to our many contributors on the ground in Nürnberg, Marc Schmidt, Wayne Calder, Jan Scholten, and Robby Englert for their reports and photos of all the new models and news from the show.


Photo courtesy Automobilia
Automobilia continues to produce some of the finest transkit (or model/kit upgrade parts) for plastic models from photo-etched stainless steel. New this year are transkits for the Wiking Austin Healey 3000 (above, left) and Busch MG-TC (above, right).


Photo courtesy Automobilia
Above are Busch's MG-TC, Wiking's MGA, and AWM's MGB with Automobilia transkits installed.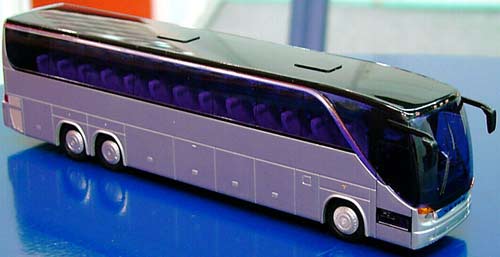 Photo courtesy Marc Schmidt
AWM displayed several buses at Nürnberg including this Setra S417 (shown above).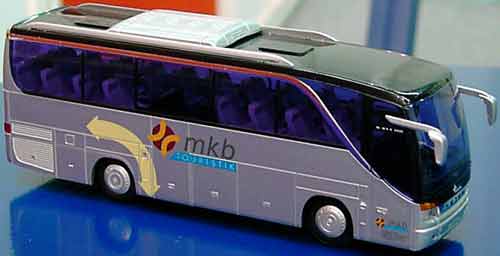 Photo courtesy Marc Schmidt
This is the Setra S411HD from AWM (above).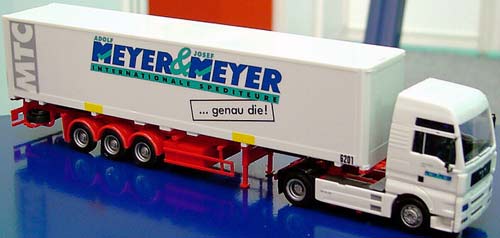 Photo courtesy Marc Schmidt
This 45 foot container (above) is also new from AWM.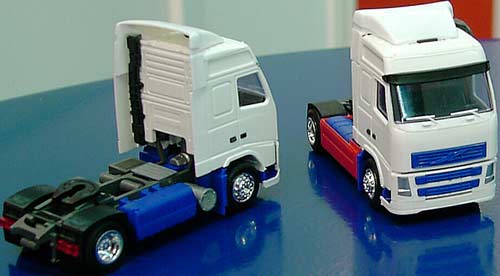 Photo courtesy Marc Schmidt
This is the facelifted Volvo FH truck tractor from AWM.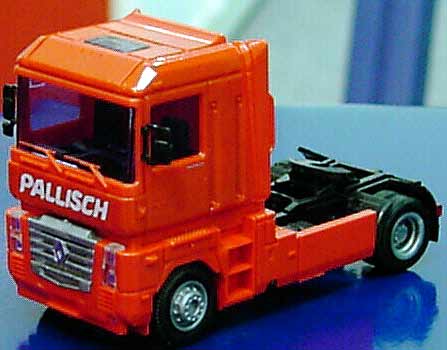 Photo courtesy Marc Schmidt
Shown above is a modified Renault Magnum truck tractor from AWM.


Photo courtesy Marc Schmidt
Boley has production samples of their GMC Top Kick based fire trucks (shown above) on display in Nürnberg.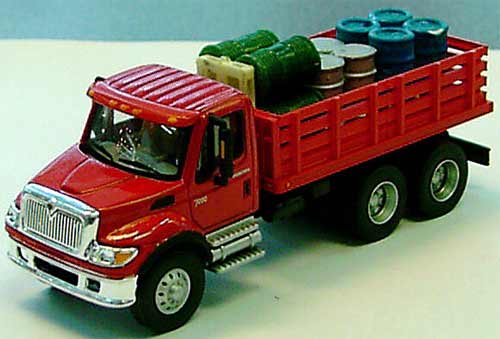 Photo courtesy Marc Schmidt
Boley also had this International 7600 stake truck on display in Nürnberg. Note chrome grille; definitely an improvement over previous Boley efforts.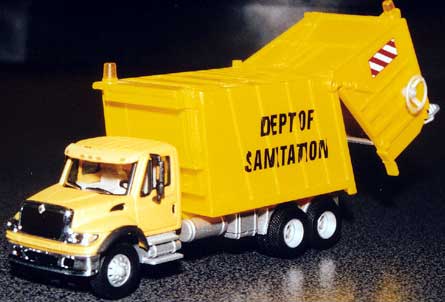 Photo courtesy Jan Scholten
Here's another Boley International 7600, this time as a garbage collection truck.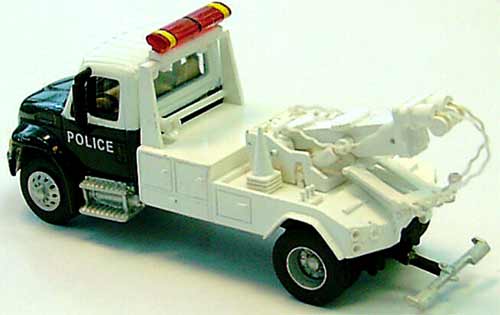 Photo courtesy Marc Schmidt
Boley had this new wrecker body mounted on their International 4400 display in Nürnberg. We have no information on this great looking wrecker yet. We'll post more info as we can get it.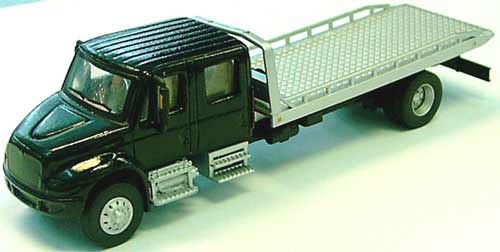 Photo courtesy Marc Schmidt
Boley is showing this preproduction sample of their new International 4300 series crew cab. Expect to see this cab variation on all the fire truck and tow truck bodies and perhaps the smaller dump trucks.


Photo courtesy Marc Schmidt
Brekina was displaying their preproduction samples of their upcoming Alfa Romeo Giulia model (above).


Photo courtesy Brekina
Brekina also had on display their four door version of the Volvo 120 series (shown above).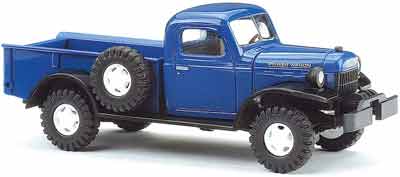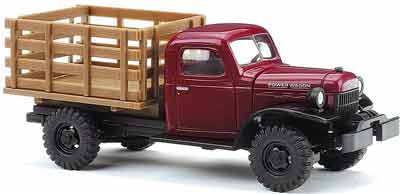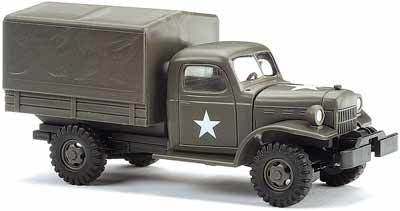 Photos courtesy Busch
Busch will be showing their new Dodge Power Wagon model at Nürnberg. Shown above are three versions we know about so far.
Busch's New Releases for 2003:
New Models (new tooling):
40255 BMW 327 Convertible, CMD Collection
44000 Dodge Power Wagon, Pickup
44001 Dodge Power Wagon, Farm Truck w/Stake Bed
44002 Dodge Power Wagon Pickup, U.S. Army
47917 Iveco Daily "Döner Lunch Wagon"
48902 Smart City Coupé 2002 Facelift
48985 Smart Crossblade
49305 Smart Roadster Convertible, CMD Collection
49355 Smart Roadster Coupé, CMD Collection
49405 Mercedes-Benz CLK Convertible, CMD Collection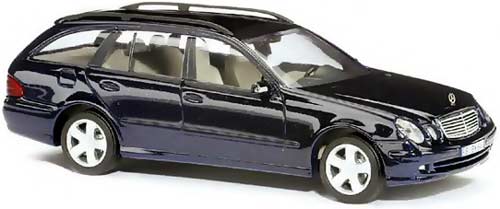 Photo courtesy Busch
49455 Mercedes-Benz E-Class T-Model Station Wagon, CMD Collection (shown above)
European Vehicles:
40001 Benz Patent Motorcar, Black
40201 BMW 327 Sedan
46707 VW Hebmüller Convertible, "Just Married"
48306 Mercedes SSK 1928 Megamodell
48530 Mercedes M-Class W 163
48925 Smart City Coupé, "Numeric Blue"
49120 Mercedes-Benz C-Class, "Designo" CMD Collection
American Vehicles:
41705 Pontiac Trans Am, "Stripe"
42906 Cadillac '66 Station Wagon, "Woody"
45407 Chevrolet Corvette, "American Graffiti"
46410 Chevrolet Blazer, metallic finish with Surfboard
Monster Trucks and Crazy Cars:
40725 MB LP809, "Show-Truck"
41551 Mercedes 170V Monster-Truck, "Firebug"
41706 Pontiac Trans Am "Crazy Cars"
42765 VW Beetle Monster Truck, "Bluebottle"
49966 Conversion set to design your own Monster-Trucks
European Police Vehicles:
42052 Opel Commodore A, Air Force General
46802 Mercedes W 123 T-Model Station Wagon, ARO Police
48929 Smart City Coupé, Hamburg Police II
48931 Smart City Coupé, "Euroambulance"
48933 Smart City Coupé, English Police
49156 MB C-Class Station Wagon, Highway Patrol
49202 Audi A 4 Sedan, Baden Württemberg Police
49251 Audi A 4 Avant, Bavarian Police
American Police Vehicles:
41851 Ford E-350, San Francisco Police
46676 Plymouth Fury, Kansas Highway Patrol*
47623 Chevrolet Caprice, "Frisco" Police D.A.R.E. unit
47624 Chevrolet Caprice, Rosemont, Illinois Police
47688 Chevrolet Caprice, Louisiana State Police*
49010 Ford Crown Victoria, Sheriff's D.A.R.E. unit
49011 Ford Crown Victoria, Metropolitan Police
49081 Ford Crown Victoria, South-Carolina Highway Patrol*
49082 Ford Crown Victoria, Kentucky State Police*
49083 Ford Crown Victoria, New Mexico State Police*
*Limited Edition, U.S. State Police Series
European Fire Department Vehicles:
40642 Tempo Dreirad, Berlin Fire Brigade
41421 Mercedes 170V Sedan, Berlin Fire Brigade
41946 Citroën H Van, French Fire Brigade "Atlantic Pyrenees"
42008 Opel Rekord C, Frankfurt Fire Brigade
46803 Mercedes W 123 T-Model Station Wagon, Singen Fire Brigade
46804 Mercedes W123 T-Model Station Wagon, Nürnberg Fire Brigade
48610 MB A-Class, Fire Brigade
48928 Smart City Coupé, Erfurt Fire Brigade
49157 MB C-Class T-Model Station Wagon, Lippstadt Fire Brigade
Smart City Coupé: DaimlerChrysler - Partner of the Fire Brigade
In partnership with German fire brigades, DaimlerChrysler donated a Smart City Coupé in fire brigade livery to each of the 16 states in the German Federal Republic. Each one wears the coat of arms and inscription for its state. Busch is producing a limited edition run of all 16 versions. To ensure that you get the models you desire, you must place your order with your retailer by May 31, 2003 at the latest. Busch cannot sell these models directly, so you must order through your hobby retailer. The part numbers are:
489301 Baden Württemberg State Fire Brigade Association
489302 Bavarian State Fire Brigade Association
489303 Berlin Volunteer Fire Brigade Association
489304 Brandenburg State Fire Brigade Association
489305 Bremen State Fire Brigade Association
489306 Hamburg State Fire Brigade Association
489307 Hessen State Fire Brigade Association
489308 Mecklenburg-Vorpommern State Fire Brigade Association
489309 Niedersachsen State Fire Brigade Association
489310 North Rhein-Westfalen State Fire Brigade Association
489311 Rheinland-Pfalz State Fire Brigade Association
489312 Saarland State Fire Brigade Association
489313 Sachsen (Saxony) State Fire Brigade Association
489314 Sachsen-Anhalt State Fire Brigade Association
489315 Schleswig-Holstein State Fire Brigade Association
489316 Thüringen Fire Brigade Association
American Fire Department Vehicles:
46411 Chevrolet Blazer, Fire Rescue
Ambulances:
41812 Ford E-350, "Mercy" Medical Services"
41813 Ford E-350, "Arbeiter Samariter Bund" Emergency Doctor**
41815 Ford E-350, "ProMedic" Mobile Intensive Care
42410 Ford Transit, SEG Oberdachstetten
46801 Mercedes W 123 Station Wagon Malteser Emergency Service (Catholic charity service)
47829 MB Sprinter ITW Thüringen
48516 Mercedes M-Class "Bludenz" Emergency Doctor
48518 Mercedes M-Class "Laegeambulance"
48531 Mercedes M-Class Emergency Doctor
48611 MB A-Class, Bavarian Red Cross Emergency Doctor
48922 Smart City Coupé, Arbeiter Samariter Bund**
48924 Smart City Coupé, Heart Mobile
49154 MB C-Class, T-Model, Emergency Doctor
49158 MB C-Class, T-Model Bavarian Red Cross Rescue Service
49253 Audi A 4 Avant, Emergency Doctor
Emergency Vehicles:
43250 Fiat Ducato, THW with life raft
47828 MB Sprinter DLRG Water Rescue
49256 Audi A4 Avant, THW
Taxi :
46503 Renault 4 CV French Taxi
49107 Mercedes-Benz C-Class, Portugal Taxi
49254 Audi A 4 Avant, Taxi
Delivery Vans:
40911 DKW 3=6 "Esso"
41550 Mercedes 170V "Texaco"
44652 Dodge Ram Van "Sparkling Spring"
46504 Renault 4 CV "Picon"
47333 Fiat Ducato "Galbani"
47719 Ford AA "Melody Car"
47720 Ford AA Drop Floor Panel Delivery
47721 Ford AA Hearse III
Bus:
47200 Renault R312, Paris 10th Version
Other:
41947 Citroën H Van "Pinder" (French Circus)
48008 Citroën DS 19, "Pinder" (French Circus)
48926 Smart City Coupé "Kreativbad" ("Creative Bath")
48927 Smart City Coupé "Smiley's Pizza Service"
49967 Auto-Pins in 1:160 scale
**ASB (Workers' Samaritan Federation) is a non-governmental organization which carries out a number of different activities in the field of social and medical services such as emergency rescue services, housekeeping assistance, meal services, home care, assistance for the handicapped, and assistance for children, youth and elderly. Reported by Bill Cawthon
David Bontrager has updated his "A Truck Modeler's Notebook" to an e-book format and features a complete overhaul and update of the book's content. Available direct from the author only; info at:
David A. Bontrager
Transportation Photography
R.R. 1, Box 202
Elnora, IN 47529
dabontrager@yahoo.com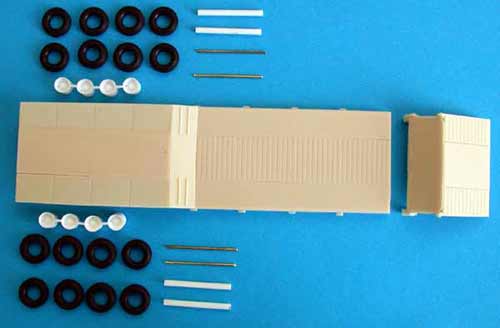 Diesel87 (distributed by Narwag) has released a very limited edition (60 pieces) four axle, detachable gooseneck, wide deck lowboy trailer in resin. Check out the finished trailer in the Photo Gallery.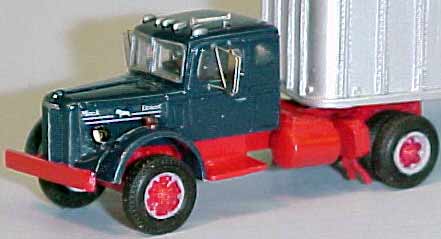 Don Mills Models announces the availability of their Mack LJ integral sleeper resin truck tractor kit. This kit features mold masters by Ralph Ratcliffe. It sells for $19.95 as a single axle tractor.
Fidelis Models announces the following new 1/87 scale kits are available now:
Heiser's Models
#102 M7 "Priest" HMC, Early production
#103 M7 "Priest" HMC, Mid Production
#104 M7 "Priest" HMC, Late Production
#105 M7B1 "Priest" HMC
#408 Panzer II, Luchs (Lynx) Reconnaissance Tank
#1100 Barge, Non-powered, European, with ramps
#1101 Barge, Powered, European, control house & ramps

Professional Models (Czech Republic)
#87002 PST-10, Soviet Amphibious Vehicle
#CS001 Dozer Blade M1, Detail set for M4 Sherman tank
#CS002 Track & road wheels, Detail set for Panther G

Kopnak (Belarus)
#1 T-34/76
#4 T-26
#6 BT-7

Komo
#1 Decal Set, Panther ausf A, Set #1
#2 Decal Set, Panther ausf A, Set #2
#3 Decal Set, Panther ausf A, Set #3
#4 Decal Set, Panther ausf D, Set #1
#5 Decal Set, Panther ausf D, Set #2
#6 Decal Set, Panther ausf D, Set #3
#9 Decal Set, Panther ausf G, Set #3
For details and photos, please visit their website at www.fidelismodels.com
Herpa announces the following items for delivery in March, April and May. Among the new models, there are a Liebherr excavator, a Mercedes E-class sedan, another cab for the Mercedes-Benz Actros tractor, the long-awaited DAF XF facelift and a new, smaller Mercedes-Benz Atego fire engine. In addition to the regular releases, there will be as many as five different editions and a small number of accessories. A rather interesting fact is that Herpa is buying its Iveco Stralis tractor at a competitor - it is the Rietze model introduced in Hanover last fall!


Photo courtesy Herpa
Looking further into 2003, we may expect the Volvo FH facelift, the modified small MAN L2000 cab (now called LE-class, shown above; there will also be a crew-cab for new fire engines), implements for the Goldhofer lowboy to carry the wheel-loader, high-beam lights for the long distance trucks (shown immediately below)and more. As Herpa is currently negotiating contracts with BMW, Mercedes, and Audi, there will be several new models of these brands as well.


Photo courtesy Herpa


Photo courtesy Herpa
The Ruthmann-Steiger "cherry picker" mounted on the M-B chassis shown above is a future project with no firm date.


Photo courtesy Herpa
023177 - 2002 Mercedes-Benz E-Class - sedan in dark blue standard finish (shown above, left). This is the new W211 E-class, the promotional model of which was made by Wiking last year. However, looking at the prototype's sales figures and thinking about taxi, police and fire brigade versions, Herpa could not resist. First colors to be available in May. Totally new tooling. (As a side-note: The suggested retail price in Germany is about one third below Wiking's E-Class model. It will be interesting to see if Herpa found a way to save this amount of money by shortcuts such as a molded-in steering-wheel...)

033176 - Mercedes-Benz E-Class sedan - As above, in metallic silver (shown above, right).


Photo courtesy Herpa
023153 - 2002 Porsche Cayenne Turbo in black standard finish. The faster 450 hp (in a sport-ute!) Turbo version of Porsche's new truck - although these words just do not go together in my mind. Wheels, tailpipes and the front bumper section differ from the lesser Cayenne S. New Tooling.

033152 - 2002 Porsche Cayenne Turbo - As above, in metallic blue.

101448 - 2002 Audi A8 sedan, Private Collection - This metallic silver-painted model features all the printing and chrome plating of Audi's promotional models. In PC box.

045810 - BMW 5-Series touring "Notarzt" (emergency doctor) -Herpa calls it a "NAW" (Notarztwagen); the correct term, however, would be "NEF" (Notarzteinsatzfahrzeug) as the prototype does not have provision for patient transport - German terms can get quite long. Bad Kreuznach's chief emergency doctor uses this white car with red markings.

045780 - Mercedes-Benz Binz ambulance "Rettungsdienst Halle" - Speaking about German terms, this is a KTW: a Krankentransportwagen (also known as a KW, or Krankenwagen), used for patient transfers, but not for actual emergency medical services. The prototype is operated by a privately owned company around the East German city of Halle at the Saale River. Limited edition.

045773 - Mercedes-Benz T2 Vario Ruthmann low-floor truck "Fire Brigade" - For the first time, Herpa delivers the Ruthmann low-floor truck in combination with the facelifted Vario cab. The truck's generic design is meant for custom modifications.

045797 - Mercedes-Benz T2 Vario LWB van "Dresden Police" - A mobile police station, used for special duty at concerts, demonstrations, etc.