---
---
To view another month's New Products News, click on any month/year listed
Athearn had production samples of their 23' container chassis at the 1998 iHobby Expo show in Chicago. They're now at your dealers!
Atlas Model Railroad announced at the Chicago show that they will be offering a 1997 Ford F-150 pickup in both Flareside and smooth side versions. The injection molded plastic model will be offered in all the colors available on 1997 prototype version plus undecorated. This is a welcome addition to 1/87 scale and fills one of the most requested "wants" on our survey. Expect this model to be top notch if their earlier Ford LNT9000 cab is any indication. Expected delivery is in January/February of 1999. (Note: Seen in hobby shops March 20, 1999)
Don Mills Models is now shipping the 1952 Kenworth "bullnose" cabover tractor with sleeper announced at our club's 1998 convention in Dallas in March (and much anticipated by many of you 1/87 truck modelers). For additional views of some of the resin castings in this kit, click here. Check back real soon for the availability of the Mack B73 and "L" models. To contact Don Mills Models directly, check our directory listing. Don will also begin selling the following decal sets for period trucks (released in this order beginning December 1, 1998): New England Transportation, Adley Express, Yale Transport, M&M Transportation, Arrow Transportation, Wooster Express, Akers Motor Lines, All States Motor Lines, Transamerican Truck Lines, and Chicago Express. Additional sets are in the works and we'll have information on their availability.
Ertl displayed their new John Deere 9510 combine at the Chicago show. It was everything it was promised to be. This model debuted as 1/87 Vehicle & Equipment Club exclusive in the club's September 1998 newsletter. Check out how this combine looks along side Lonestar's grain trailer in our "farm combo"!
GHQ, as you heard from us first and reported in our Chicago Hobby Show report has entered the 1/87 model field with their first offering being a model of an International Farmall tractor (same version as they produce in N scale). The second item up will be a model of a Bobcat brand skid steer front end loader commonly seen at construction sites (also patterned after their existing N scale version). For a peek at what other products may be in the offing, check their web site at www.ghqmodels.com . A special thanks go to all of you who e-mailed and hounded GHQ until they decided to enter 1/87 scale (and an extra special thanks to Dave Bontrager for his excellent review of several GHQ 1/160 models in the June 1998 issue of Model Railroading magazine); we welcome them.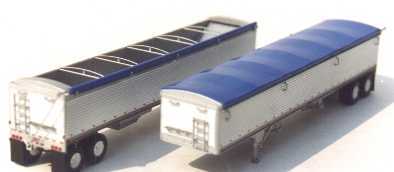 Lonestar Models displayed production samples of their Wilson grain trailer announced in March at the club's annual convention. Delivery is expected in December.
Model Power displayed several assembled plastic tractor-trailer models at the Chicago show. Various trailers with a Kenworth T600B tractor. Our club representative was most impressed with the tanker trailer and reported them all to be of Herpa quality.
Sunshine Models has recently produced a set of six International Farmall (model M, I think) farm tractors intended to be used as loads for their flat car kits. These appear to be very well done, comes as a set of six, with blocking and tie down "chains", and decals for $30 for the set (plus $4 shipping/handling for up to 5 kits). For ordering information check our directory listing.
Wm. K. Walthers announced at the Chicago show that they will be producing an automobile plant as their subscription series for 1999. Offered as part of the series will be (another) Ford LNT9000 tractor with automobile transport trailer (don't get your hopes up when you see the Peterbilt 359 shown in the promotional material), 1966 Ford F-100 pickup truck, 1967 Mustang fastback, 1998 Ford Expedition, and 1998 Ford Crown Victoria. These are all injection molded plastic models comparable to Herpa in quality.