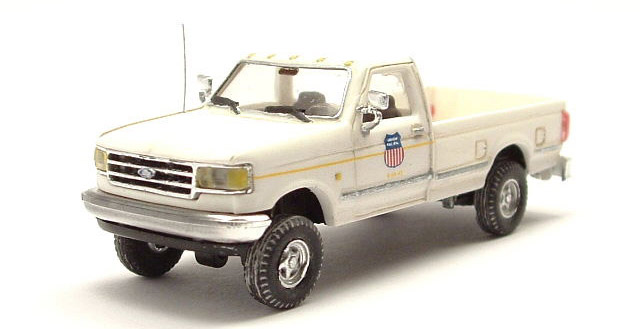 This photo is from another first-time contributor, Denis Arrufat, who lives in Germany and models US railroads in HO scale. He is currently planning a layout in the Idaho region set in the 1980s. He is in the process of collecting vehicles which fit as good as possible into this timeframe.
He built this model using a Trident Ford F-350 crew cab truck which probably represents the 1993 model. For his future layout this is much too modern so a compromise was needed. It would be too much work to build a 1980s F-350 truck but Denis decided at least a 1989 might be feasible.
The crew cab was "Dremeled" into a single cab and the 1993 design radiator grille was changed to to look more like the ones from the '89 model. Additional detailing is only painting and Microscale (N-scale!) decals. Finally a self made Ford oval was attached to round up the truck's appearance and here we go!
Posted July 4, 2005