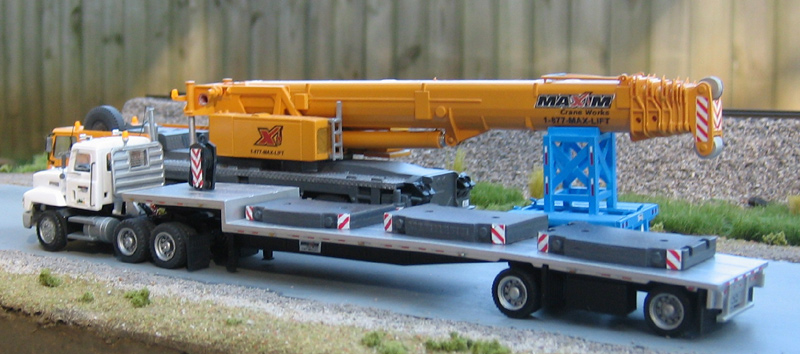 The counterweights for Jason Slaton's Liebherr LTM 1160/2 mobile crane are being transported by a Herpa/Promotex Mack CH truck tractor and a Promotex 48' drop deck trailer. Details on the Mack include a Dennis Aust headache guard, Plano mirrors, air lines, custom decals and warning light.
The Liebherr LTM 1160/2 mobile crane in the background was built from a Kibri model kit. The model is painted with genuine Liebherr yellow paint and decaled with custom decals for crane operator Maxim Crane Rental. The boom dolly was scratchbuilt using models created by Denis Doucet as a guide as well as internet research. Also featured in Photo Galleries 386 and 387.
Jason says his inspiration for the crane models came from the works of Denis Doucet and the great models at http://hansebube.de/ and http://www.p-kun.com/.
Posted January 2, 2010