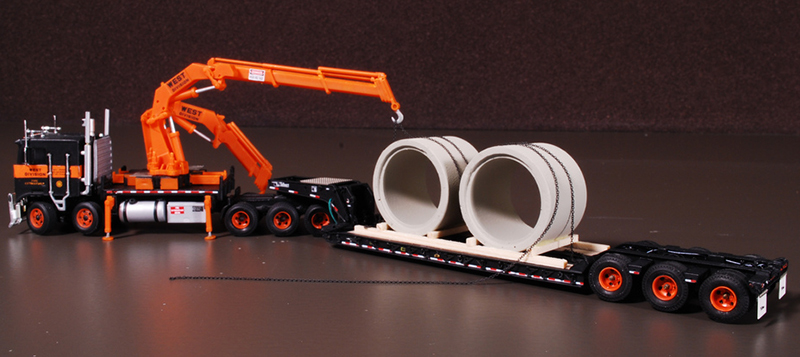 This truck model by Kevin Shanahan represents a Kenworth K184 86" COE 8x4 tractor with two Atlas hydraulic cranes frame mounted behind the cab. It has twin steering axles with super single tires and wheels and the frame has been stretched to accommodate the crane deck and the additional pusher axle. The tractor is owned by a fictional company named West Division Crane and Rigging Company. The lowboy trailer is a three axle Talbert. The cranes are remotely controlled by two men on the ground for locating heavy concrete culverts and piping without the need and expense of hiring a separate crawler or all terrain crane for the job.

The model is a kitbashed Herpa Kenworth 108" Aerodyne truck tractor cut down to a standard 86" sleeper cab with the raised roof removed. Two Herpa chassis were combined to create the twin steer setup and Herpa steering kits were installed. The lowboy trailer deck is from a Lonestar Models lumber truck bed, the fuel tanks, tool boxes and chains are from A-Line, and the wheels and tires are Dennis Aust five hole steel wheels including the Super Singles on the front end. The headache rack is from Dennis Aust. The radiator/bumper guard is from Herpa and the wood timber stabilizers supports are from Zycon Models. The Atlas cranes are from Kibri, the deck plates are from Plano Model Products, the paint is Floquil, and the decals are Microscale. License plates are from Howard's Hobbies.

The trailer is a Classic Mint Collectibles Talbert brass lowboy with Dennis Aust five hole steel wheels painted and installed to match the tractor. The pipe loads are from JWD Premium Products.
Posted August 12, 2012