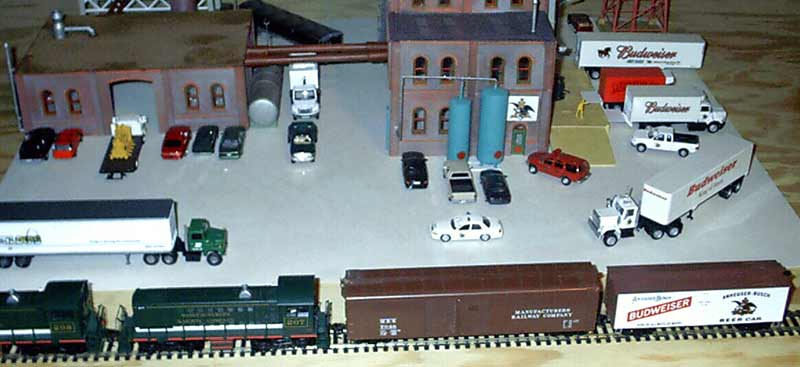 Keith Belk has started a Budweiser brewery complex on his model railroad layout and sent us this photo with a progress update. So far, he has buildings from DPM (FedUps made into two buildings and kit bashed); grain receiving is scratchbuilt using Rix Products, Plastruct, and Evergreen materials; animal feed tank loading is Kibri Tanks kit 8103; Korbel water tower; Walthers smoke stack; Herpa Silo; other tanks and details are Kibri Tank kit 8103, Faller lights, Evergreen styrene materials, Walthers; and primary piping is Evergreen styrene tubing.
Vehicles on the layout include Promotex/Herpa 40' trailers, Promotex GMC tractor, Promotex Ford reefer, Boley reefer, Wiking fork lift, Walthers Ford Expeditions and Crown Victorias, Busch GMC Jimmys and Ford Crown Victoria, Atlas Ford LNT-9000 tractors with Plano grille, Ford F-150 pick ups and Taurus, Monogram Ford Mustang, Kinsmart Chevrolet Caprice, Ertl Dodge Ram dually, Lonestar Wilson grain trailer, Boley tank truck, Athearn Ford C series with stakes removed, Athearn 45' trailer, Lifelike power unit, and Boley roll off dumpster.
For the train fans, trains include Walthers limited edition Atlas S2s lettered for Budweiser-owned Manufacturers Railway, MDC Roundhouse Budweiser bill board reefer, and Bowser Manufacturers Railway round top 50' box.
Posted October 23, 2002